Baunei and Santa Maria Navarrese
a land full of surprises in Ogliastra.
"Perhaps there is not anywhere else in our country such a wide coast: 40 kilometers of limestone ramparts and cliffs, just broken here and there by a few coves;perhaps the most beautiful stretch of the Italian coast and without shadow of doubt the most harsh and wild".
Thus Fulco Pratesi and Guido Tassi described the territory of Baunei in their "Guide to the Nature of Sardinia".
It is still today one of the last natural paradise, brilliant combination between sea and mountain, where animals like the Red Seagull and the Queen's Hawk build their nest and live surrounded of a nature full of endemism protected from the home guardians which are the shepherds that still today pasture their flock of goats. In the inland, we will be having a type of calcareous rock with an height higher of 400 meters with an extension that goes from the Sea to the S.S. 125. All around Santa Maria Navarrese and Bacu Eltili we are going to have granite rocks where we can see also the basaltic Golgo's Plateau with the most deep Chasm in Europe named "Su Sterru".
All the territory consist in deep valleys which end up on the sea by building all ours most beautiful and isolate small beaches like for example: Portu Pedrosu, Portu Cuau, Cala Goloritzé, Ispuligedenie (Cala Mariolu), Cala Biriala, Cala Sisine e Cala Luna.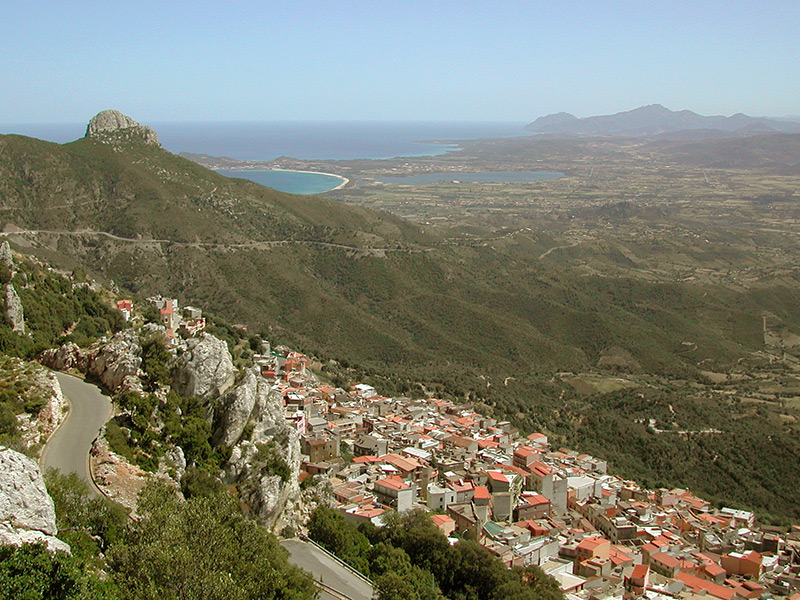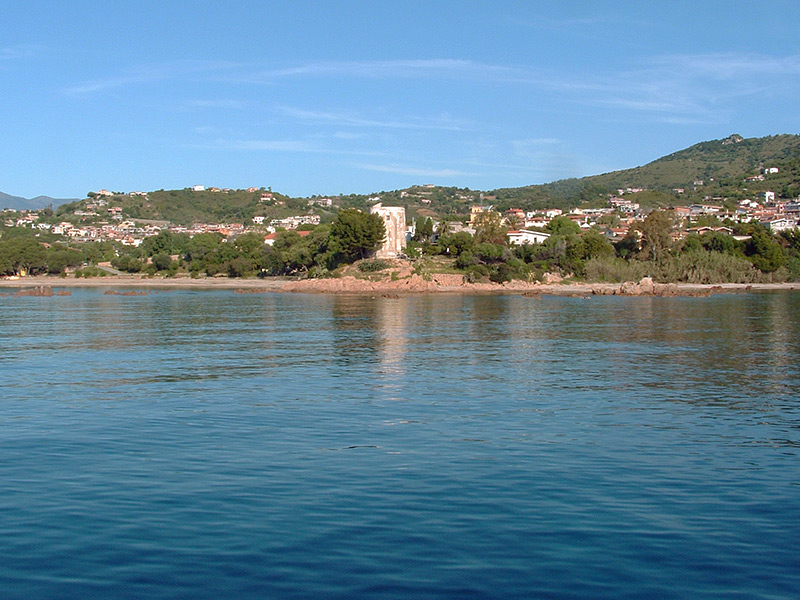 Santa Maria Navarrese, fraction of Baunei's town, in located right in the middle of the Sardinian west coast, just 10 minutes away from the Arbatax's Harbour and from the Tortolí's Airport.
The name Santa Maria Navarrese comes from a church builded in the 1052 from order of the Princess of Navarra, daughter of the King Garcia Sanchez third, probably because chased away or just ran away from her own town to our beautiful coast because either a sin of love or a particular intrigue that happened in court. The secular and millennial green trees which surround the white old church and the grey Spanish Tower are one of the most important characteristic of this town.
The Centrale beach of Santa Maria Navarrese, is located in the middle of the town, it is a beautiful Bay protected from the wind, surrounded on the north side from the Spanish Tower and on the south side from some porphyry reefs.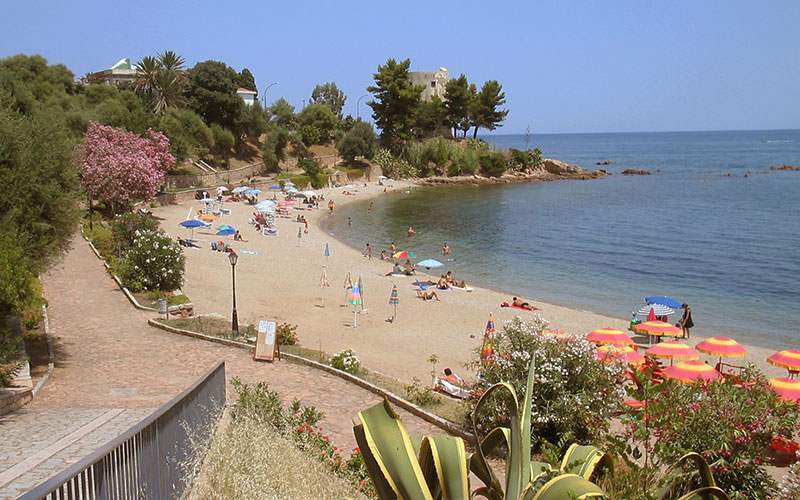 Gallery
The pictures of Baunei and Santa Maria Navarrese.